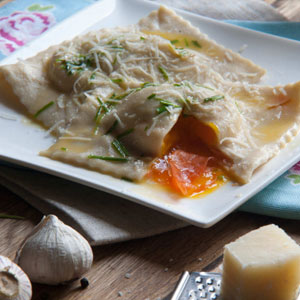 …smoked salmon and still running poached egg…
A ravioli that brings the taste of Scotland with the richness of a free range runny egg..
Ingredients
For the pasta dough:
200g tipo "00" pasta flour
2 large free-range organic eggs
extra flour and polenta for dusting
For the filling:
125g spinach
50g smoked salmon, very finely chopped
125g ricotta cheese
40g parmesan cheese, grated
zest of ½ a lemon
grating of nutmeg
1 egg
4 egg yolks, preferably free range (try a duck egg!)
You can use extra salmon for dressing the dish.
How Simple to do
Making the filling: Steam the spinach until wilted, cool then squeeze out all the water using your hands. Chop the spinach finely then add to the salmon, ricotta, parmesan, lemon zest, salt, pepper and a grating of nutmeg in a large bowl. Add 1 egg to bind.
Making fresh pasta: Put the flour into a food processor and crack the eggs into the bowl, add a pinch of salt and a splash of olive oil, then slowly mix the egg into the mixture until it forms the texture of bread-crumbs in the processors bowl (don't get it too wet – add a little flour if you do and re-mix). Once mixed, knead the dough until you have a silky smooth elastic texture.
Roll out using a pasta machine to the lowest number (very thin). Using a ring cutter, mark out the ravioli on the pasta sheets. Place the mixture into the centre (not too much) and make a well in the centre of the mixture. Add one egg yolk to each ravioli and add a pinch of salt. Cut another pasta sheet into a square big enough to drape over each ravioli. Press the edges together and seal tightly, gently squeezing out all the air (do not break the yolk). Trim using a cutter. Make sure your pasta has no holes. Add a dusting of polenta to the baking paper and place each here whilst you make the rest.
Use a large frying pan with salted water, on a soft rolling boil. Place the ravioli one at a time into the water and cook for around 4 minutes. While the pasta is cooking, melt some butter in a pan until it starts to bubble. The egg yolk should be runny when eaten so do not over cook.
To serve? Sprinkle on some grated parmesan, chopped chives and spoon over a tablespoon of the melted butter or drizzle with a little truffle oil.