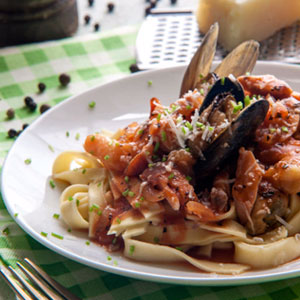 This Prawn and Mussel Pasta dish is a perfect blend of Scottish flavours with Italian cuisine, perfect to eat alfresco.
Ingredients
4 tablespoons olive oil
2 medium chopped onions
2 garlic cloves peeled and crushed
dry white wine
seafood stock
puréed or chopped tomatoes
one pack of Argyll Smokery kiln roasted smoked salmon fillets
chopped fresh parsley
salt and pepper to taste
one small fresh chilli (cool not hot) to taste
spaghetti or a pasta of your choice.
How Simply to do
In a large saucepan, heat the oil and then cook the onions until they are soft and translucent, about 4 minutes. Add the garlic and
cook for another couple of minutes (by adding the onions first you stop the garlic from browning). Add the wine and fish stock and bring to a boil and begin to reduce by one third. Add the tomato sauce, fresh parsley, salt, pepper and chilli and bring to a boil.
Again reduce – aim to loose a third again. Break up the kiln roasted salmon fillets into large chunks, drain both the prawns and the mussels (you could of course use this oil should you wish to blanch the onions at the start of this dish for more flavour). Reduce
the heat and add the seafood, cook over low heat while the pasta cooks and the sauce thickens. Cook the pasta in boiling salted water until it is "al dente". Drain the pasta, top with a scoop of the tomato sauce and toss very gently. Serve in four individual
bowls, topped with more sauce, and dividing the seafood up evenly between the four dishes.
Sprinkle with parmesan cheese and fresh parsley and serve immediately with fresh hot baked ciabatta and fresh ground black pepper.