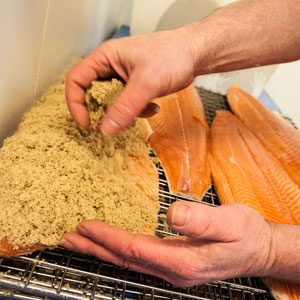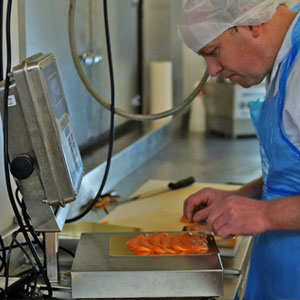 The ancient craft of smoking fish is an art: many try and fail. We have mastered this fine art and we smoke fish well! It's all in our cure… We only use the freshest finest Scottish Salmon and Trout combined with our own bespoke smoking cure, based upon years of tailoring and unique to Argyll Smokery. Our signature 'dry' cure is hand applied to each individual fish and left for days to mature slowly. This long process draws out moisture, resulting in fish superior in quality, firm in touch and especially non greasy or oily.
Smoking over reclaimed old Scottish whisky barrel shavings, the natural smoke created in our kilns teases out all the flavour of the fish – it does not confuse or over power them. Our use of sugars bring a little sweetness forward in the taste, but nothing more – the taste only encouraged. This is why we say 'simply improving on nature itself'.
Niche… Simplicity…
Unlike most other smokehouses, we are not volume driven, we do not mass produce or machine slice and we never, ever, freeze. We only smoke in small singular batches fresh to order, whereupon provenance, freshness and quality are guaranteed. And each step of our smoking process (from filleting, smoking, trimming, slicing, packing to dispatch) is produced by hand. No machine can ever replace the quality control of skilled craftsmen who care. Unlike others, we reject the common misplaced urge to add more and more flavourings and ingredients. Our products are refined and pure, we respect the integrity of the fish.
Argyll Smokery is the home of genuine smoked fish.
Go Shopping