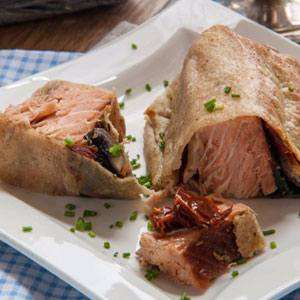 A perfect blend of Scottish flavours with the exquisite cuisine of the south of France.
Ingredients
For the filling:
450g of Argyll Smokery kiln roasted smoked salmon.
10g butter (a heaped teaspoon)
140g packet watercress, rocket and spinach salad
1 rounded tablespoon crème fraîche
1 dessert-spoon lemon juice
35 grams of sun dried tomatoes crushed to paste form
freshly grated nutmeg and salt and black pepper
For the pastry:
220g buckwheat flour
80g butter
20g olive oil
roughly 5 tablespoons of cold water
This makes enough pastry for 6 parcels.
How simple to do …
To make the pastry. In a bowl cut the butter into small cubes and add the olive oil, then add the ! our and add a pinch of sea salt. Mix by hand until the mixture becomes crumbly. Add the cold water, mixing quickly with a spoon. Empty the pastry dough onto a lightly floured surface and knead. Wrap in a tea towel and leave to 'rest' in the fridge for about two hours.
Preheat the oven to 180°C.
Buckwheat pastry contains no gluten, making it very fragile. In a frying pan on a high heat, add the butter and wilt the green salad leaves for about 1 minute, stirring to keep the heat even. Tip the leaves into a sieve over a bowl and leave it to cool. Use the back of a wooden spoon to press the wilted greens against the sieve to get rid of any moisture then chop. Add this to a bowl with the crème fraîche, lemon juice, some freshly grated nutmeg and seasoning. Chop the sun dried tomatoes and use the back of a spoon to create a paste. Divide the rested buckwheat pastry into equal pieces then roll the first piece very thinly into a oblong the same shape as the
salmon fillet.
Firstly spread a little of the sun dried tomato paste over the top and bottom of the Argyll Smokery kiln roasted smoked salmon fillet. You are not roasting the fillet – just cooking the pastry, so it is important to keep the fillet moist with the greens and tomato paste. Then spread out the wilted greens mixture – about the same size as the fillet – in the centre of the pastry. Place a salmon fillet on top. Using a pastry brush dampen the corners of the pastry with cold water then fold the pastry in and over to form a pastry packet.
Be careful not to use too much as the buckwheat pastry is delicate. Carefully turn the parcel over and put it onto a parchment lined tray and bake until the pastry is cooked. Serve with fresh salad and hollandaise source.